I've always been a fan of high end furniture but with three kids and two of them in daycare its not currently in my budget. I fell in love with a West Elm media center and thought why don't I just make this myself! So I found myself looking at how I could build this at a way more affordable cost with the IKEA Kallax cube and some moulding. Here is how I made this Ikea hack media center! I hope this tutorial is helpful for you!
Here is the West Elm Media Center I had my heart set on! I loved the white and gold accents. I ended up not painting it white but if that is something you want to do you can always do that. If you do paint it you will need to use a shellac primer first!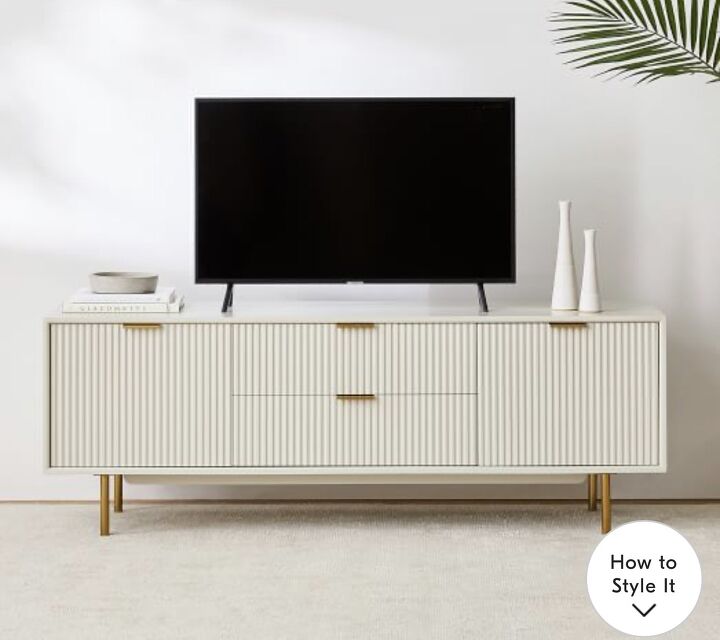 Here is the tutorial in case you want to make your own!
Materials:
1 IKEA Kallax 4 cube $59
2 IKEA Kallax doors $13 a piece
2 IKEA Kallax drawers (4 drawers fronts come with this) $20 a piece
10 pieces of Wood moulding $ 5 a piece
Wood glue
Sand paper 120 grit
Furniture legs
Cabinet pulls
Now let's put this Ikea hack together:
Start by putting together the IKEA Kallax cabinet per the instructions that come from IKEA
Attach the furniture legs to the Kallax cabinet. I installed the legs 5″ from the left and right sides and 2″ from the front and back.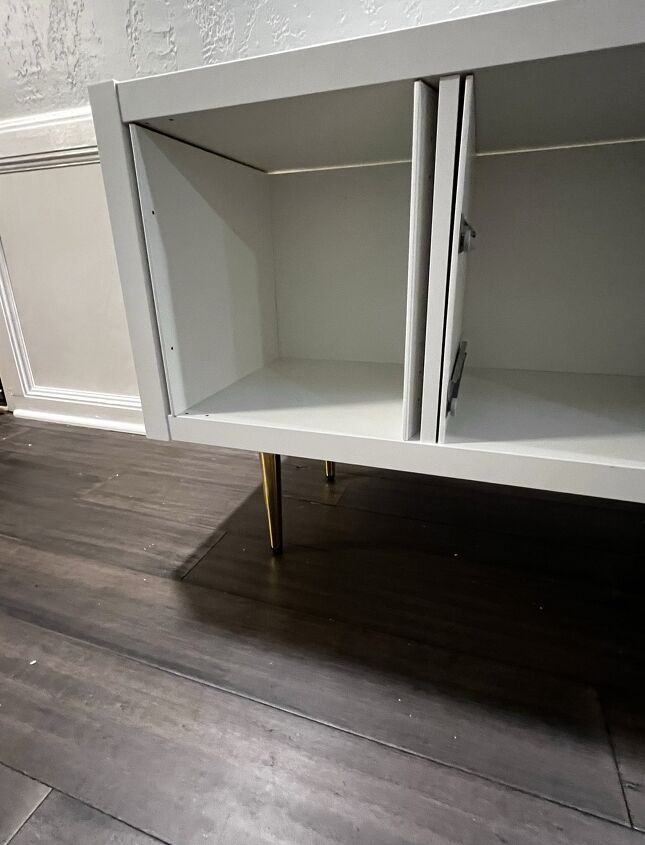 Install the inserts for the doors and drawers into the Kallax cubes but instead of using the measurement guide they had install the inserts 1/4″ further inset so that the doors with the frames sit flush with the frame.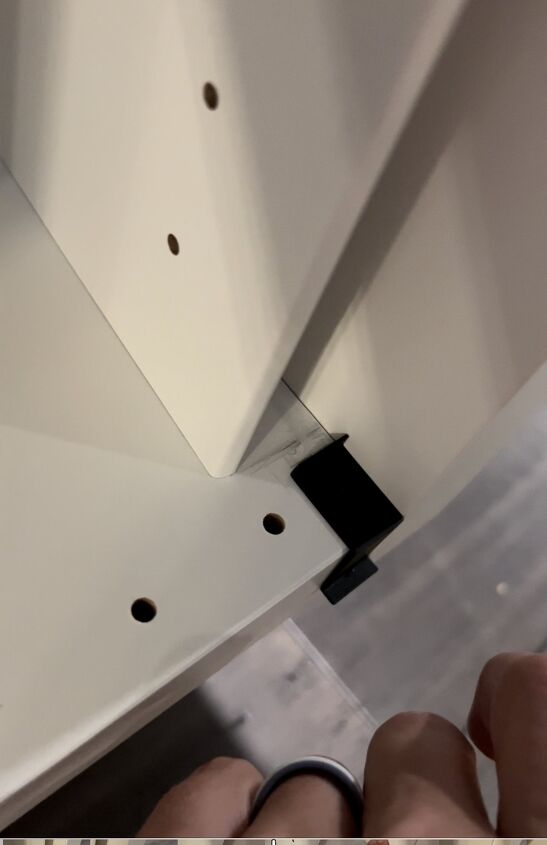 Once that was done cut all of the wood pieces. I used my miter saw and a stop block to do this. This ensures that every piece of wood is exactly the same size. I cut 34 of the moulding pieces at 13″ and 78 at 6.5″. Lightly sand the ends of each piece in case of splitting. One way to avoid splitting to occur is to put the good side down when using a miter saw and the good side up when using a table saw.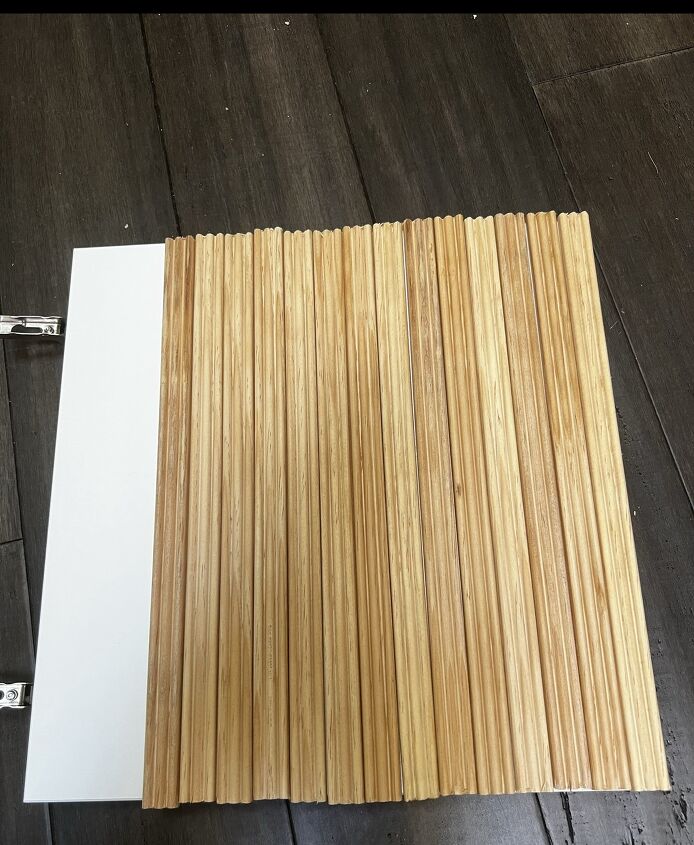 After these were cut I used wood glue to attach the moulding to the doors and drawer fronts using wood glue. I put the glue on the doors and drawer front with a brush and making sure it was not to thick for it to go between creases. I fit 17 moulding pieces on each drawer or door but there was space for a partial piece of moulding. If you get any dripping or glue on the moulding you can wipe the glue off with a wet paper towel. Make sure the moulding is flush all the way around. You can use a board a guide and push the pieces flush against it
Use a table saw to cut down the partial piece after I measured how wide it needed to be. To get this measurement I held the moulding onto the door and drew a line down the back side where I needed to cut.
Glue this last piece of moulding on each drawer and door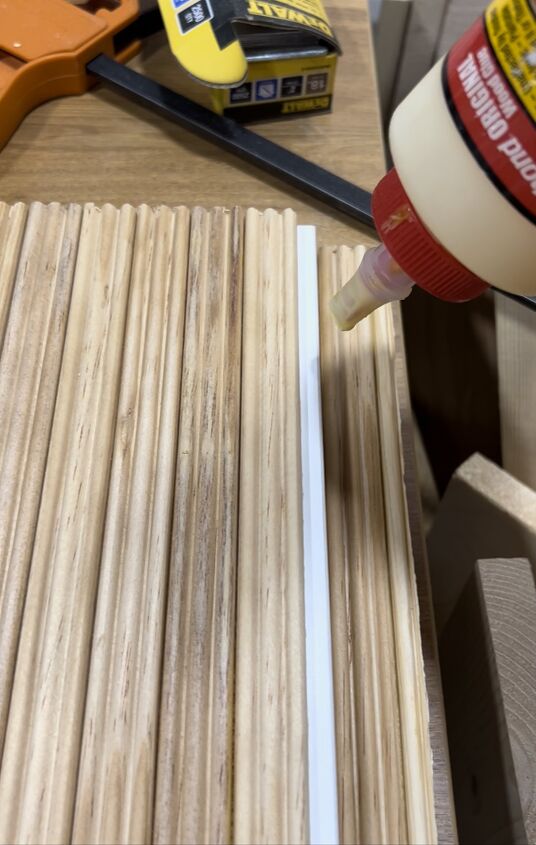 After the glue dried I installed the cabinet hinges and attached the doors to the Kallax cube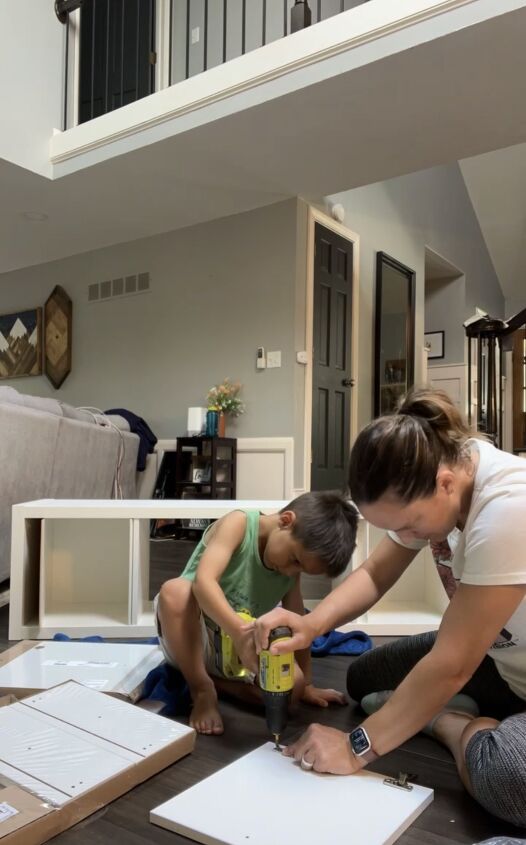 The last thing to do was attach the drawer and door pulls!
And there you have it! An amazing IKEA hack media center! It has so much storage and is so sleek!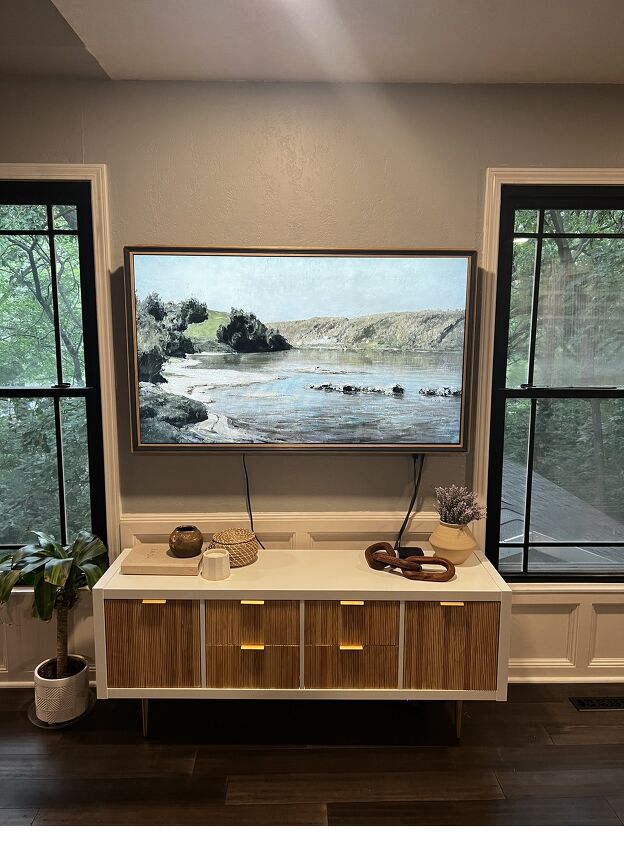 Let me know if you have any questions!